Plagiarism Checker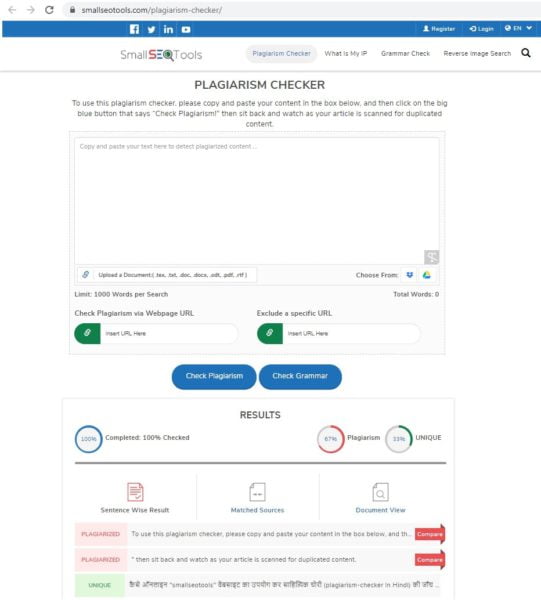 Hello friends, I am presenting for you in today's topic how to check plagiarism-checker. Although there are many websites available online for plagiarism-checker, but I found this website to be the best "smallseotools.com" . I also use this website to check my articles. So, without delay, let's see how to check plagiarism in Hindi language using online "smallseotools.com" website.
How to check plagiarism-checker in Hindi using online "smallseotools" website ?
To use this plagiarism checker, you must click smallseotools.com . After clicking, you will see a UI like the image below.
You have to copy-past your article in the box shown in the image. Keep in mind that for plagiarism checker, the box should contain a maximum of 1000 words at a time.
Then click on the big blue button ie "plagiarism checker". After some delay you will see in the RESULT section that your article has been scanned for duplicate content. Where you will get to see how much percentage of your article has been scanned, how much percentage has been plagiarism in your article and how much percentage is your article unique (UNIQUE).
So in this way you can check for plagiarism using online "smallseotools.com" website.
Plagiarism Investigation through URL in Hindi
With this free online plagiarism test tool, not only are you able to upload different formats of documents, but you can also check for plagiarism through the website URL. Just enter the webpage URL and click on the "Check Plagiarism" button and see the RESULT.
Friends, if you have the website if you liked my article  SUBSCRIBE  please go ahead so you get my e-mail of new articles, and Please more of this article  Like  and  Share  in. If you have any kind of complaint from us, or you have any important information about this article, and you want to share that invaluable information with us, or you can write about any new technology related article. so you want to know more, you feel free to contact InTechnologies.in us  (Contact us)  can, we will be happy to help.
If you would like to join us as a writer, we wholeheartedly welcome you.
---
Other Links: –